Stop focusing on the scale, and start seeing the results of your efforts with periodic 3D digital body composition scans at OVYVO Medical Weight Loss!
Available at our Harrisburg office, our state-of-the-art digital 3D Body Composition Scanner provides a fast, non-invasive, 360-degree view of the body so that you can actually see your results as you progress toward your weight loss goals.
How It Works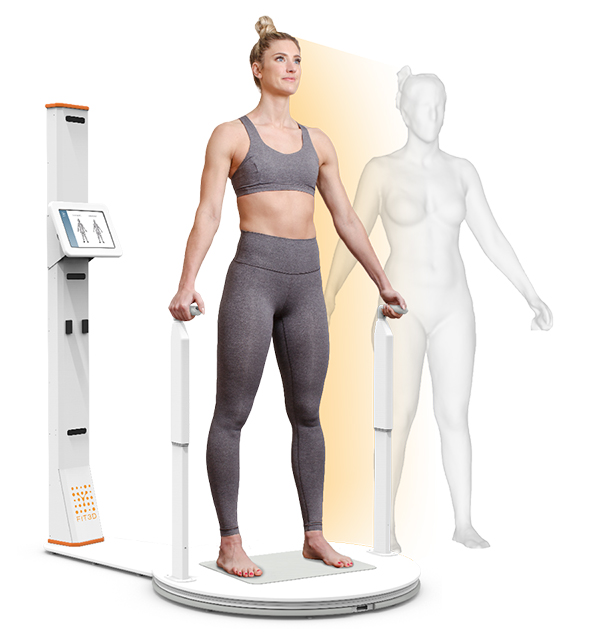 It's non-invasive! The scanner uses infrared light and multiple specialized cameras to assess hundreds of measurements and generate a 3D avatar. Additionally, this data is processed by an advanced algorithm, based on thousands of scans and a mountain of biometric data, to generate an assessment of a patient's body composition.
It's fast and easy! A patient simply steps onto the scanner's platform, grips a set of handles, and remains motionless for about 40 seconds as the platform slowly rotates to complete a 360-degree scan.
Results are private and available any time! Once the scan has completed, the system records key measurements, creates a 3D avatar, and uploads the results to your own secure, private account – all within about 10 minutes. Accessible through any desktop or mobile device with an internet connection, scans and measurement details can be viewed any time, or compared with prior scans.
Privacy
Patients have complete privacy during the scan, and images are never shared with our providers or staff without your consent. Patients who choose to share their avatar images also have the option to share either a detailed version or a silhouette.
Tracking Your Progress
The scale reveals only a part of your weight loss story. With detailed measurements and full-body avatars, you can now see a more complete picture of your progress.
Patients can review scan results, or compare current and prior results, any time through a secure, easy-to-use interface that's accessible from any internet-connected computer, tablet or smartphone.
As a simple and effective method of tracking your weight loss progress, we recommend performing a body composition scan every 90 days. (Due to a variety of factors, your weight and body composition can fluctuate from day to day. These factors include things like how recently and how much you've eaten, your hormones, and even how empty your bladder and bowels are. Therefore, scans that are performed at longer intervals provide a more accurate view of your progress.)
What To Wear For a Successful Scan
For the most accurate measurements, patients should wear minimal, form-fitting clothing during the scan. For women, we recommend a sports bra (no wire or padding). And for both men and women, we recommend shorts that conform to the body.